The four gifted LGBTQ individuals featured in this month's blog made significant contributions in their respective fields during the first half of the 20th Century.
Dorothy Arzner, a Lesbian, was, from 1927 until her retirement from feature film directing in 1943, the only female feature film director working in Hollywood for the better part of her career.
Julian Eltinge, an American stage and film actor and female impersonator was a star in vaudeville, on Broadway (where a theater was named after him) and became one of the highest paid actors in silent films.
George Francis Peduzzi, known professionally as Karyl Norman, was also a female impersonator who was popular in vaudeville, nightclubs, on Broadway and throughout Europe in the 1920s and 30s.
Anna Sosenko. was best known as a songwriter of "Darling, Je Vous Aime Beaucoup," which she wrote for Hildegarde — the incomparable Hildegarde, which was the name that Walter Winchell gave her. For 20 years Sosenko, was Hildegarde's manager and companion and was responsible for turning the "luscious, hazel-eyed Milwaukee blonde who sings the way Garbo looks" into the chanteuse Eleanor Roosevelt nicknamed the "First Lady of the Supper Clubs."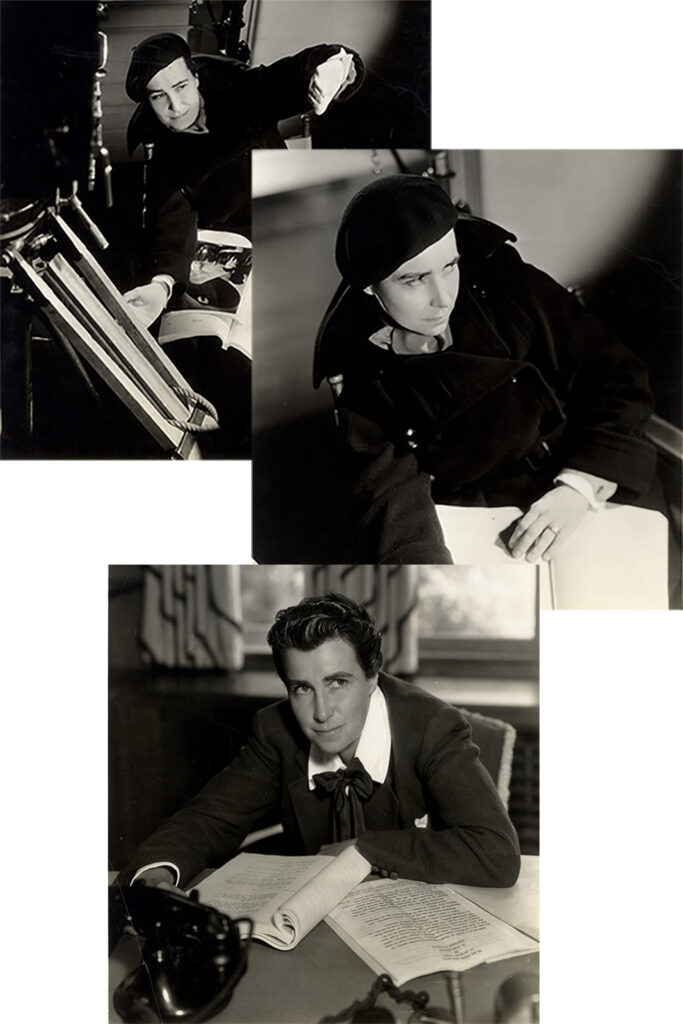 Three vintage original 8 x 10″ (20 x 25 cm.) photos, USA. One photo has diagonal creases near bottom and other signs of light handling, VERY GOOD-; the other two are linen-backed keybook photos, NEAR FINE. VIEW DETAILS
Dorothy Emma Arzner (January 3, 1897 – October 1, 1979) was an American film director whose career in Hollywood spanned from the silent era from 1927 until her retirement from feature directing in 1943. Arzner made a total of twenty films and launched the careers of a number of Hollywood actresses, including Katharine Hepburn, Rosalind Russell, and Lucille Ball.[3] Additionally, Arzner was the first woman to join the Directors Guild of America and the first woman to direct a sound film.
Arzner would maintain a forty-year relationship with Marion Morgan, a dancer and choreographer who was ten years older than Arzner. Even though she tried to keep her private life as private as possible, Arzner had been linked romantically with a number of actresses, including Alla Nazimova and Billie Burke. She never hid her sexual orientation, nor her identity; her clothing was unconventional for a woman of that time, she wore suits or straight dresses. In 1930, Arzner and Morgan moved to Mountain Oak Drive, where they lived until Morgan's death in 1971.
Arzner's Legacy
Arzner's work, both as a female filmmaker and a lesbian filmmaker, has been an important area of film studies. Perhaps due to Arzner's leaving Hollywood in the 1940s, her work had been all but forgotten until the 1970s when she was rediscovered by feminist film theorists. Since then Arzner's films have been studied for their depictions of gender and female sexuality.
Wikepedia
Vintage original 41 x 27" (104 x 69 cm.) poster, USA. Julian Eltinge, dir: William De Mille; Paramount. On linen, with some touchups in blank margins and along old foldlines, very good+. VIEW DETAILS
Julian Eltinge (May 14, 1881 – March 7, 1941), born William Julian Dalton, was an American stage and film actor and female impersonator. After appearing in the Boston Cadets Revue at the age of ten in feminine garb, Eltinge garnered notice from other producers and made his first appearance on Broadway in 1904. As his star began to rise, he appeared in vaudeville and toured Europe and the United States, even giving a command performance before King Edward VII. Eltinge appeared in a series of musical comedies written specifically for his talents starting in 1910 with The Fascinating Widow, returning to vaudeville in 1918. His popularity soon earned him the moniker "Mr. Lillian Russell" for the popular beauty and musical comedy star.
The success of The Fascinating Widow led producer A. H. Woods to give Eltinge one of the entertainment industry's highest honors, having a theatre named for him. A year to the day that The Fascinating Widow opened, Woods opened the Eltinge Theatre on New York's 42nd Street designed by noted theater architect Thomas W. Lamb. Eltinge himself never performed in his namesake building. After serving as a legitimate theater for many years, it became a notorious burlesque house and was shut down during a "public morality" campaign in 1943, before becoming a cinema the next year. The theater is now part of the AMC Empire 25 cineplex having been lifted and moved in its entirety down the block from its original location (see "Julian Eltinge Documentary" below).
Hollywood beckoned Eltinge and in 1917 he appeared in his first feature film, The Countess Charming. This led to other films, including 1918's The Isle of Love with Rudolph Valentino and Virginia Rappe. By the time Eltinge arrived in Hollywood, he was considered one of the highest paid actors on the American stage; but with the arrival of the Great Depression and the death of vaudeville, Eltinge's star began to fade. He continued his show in nightclubs but found little success. He died in 1941 following a show at a New York City nightclub.
Wikepedia
Vintage original 14 x 11″ (36 x 28 cm.) print still photo, USA. Karyl Norman. A bit of chipping and a few small marginal tears, VERY GOOD or better. With the blindstamp of photographer John de Mirjian in bottom right corner, and photographer's ink stamp and pencil notations on verso. [New York: Frank L. Teller, 1927]. VIEW DETAILS
George Francis Peduzzi (June 13, 1897 – July 23, 1947), known professionally as Karyl Norman, was an American female impersonator who was popular in vaudeville, nightclubs and on Broadway in the 1920s.
He billed himself as "The Creole Fashion Plate", and was known for his gowns, mostly made by his mother with whom he traveled. He made his New York City debut as a female impersonator in May 1919 and was an immediate success. He specialised in Southern songs, and was known for his quick changes of clothes and gender.
As well as performing in vaudeville, Norman appeared in many stage plays and musical comedies. He also toured in Britain, Europe, Australia, New Zealand, and South Africa. In New York, he appeared in the Palace Theatre on Broadway in 1923, starred in the Greenwich Village Follies of 1924, and Lady Do in 1927, and headlined at the Palace Theatre in 1930 in an act called "Glorifying the American Boy-Girl".[6] With Gene Malin, Ray Bourbon and others he instigated the "Pansy Craze" for drag acts in New York in 1930. The actress Fifi D'Orsay described Norman as "…a great performer… a wonderful guy, beloved and respected by everybody, although he was a gay boy… it was harder for them than it is today. He did an act with two pianos and those gorgeous clothes. He had such class and he was so divine."
Wikepedia
Large quarto, 6 pp. vocal score, along with about 16 pp. of instrumental parts. Np [Camden, NJ?], Lightly worn with light fading, some scattered smudges, light edgewear including short tear, VERY GOOD. VEIW DETAILS
ANNA SOSENKO (June 13, 1909 — June 9, 2000) born in Camden, NJ, was a songwriter, manager and Broadway legend who achieved great acclaim and popularity launching and sustaining some of the best-known stage and entertainment careers of our time.
Sosenko was probably best known for her song "Darling, Je Vous Aime Beaucoup," which she wrote at age 25 for Hildegarde — the incomparable Hildegarde — whose career as a world-famous chanteuse Sosenko launched and managed for twenty years and was her companion before the two broke up in the 1950s.
Sosenko also nurtured the early careers of Alan Jay Lerner, Joseph Stein and other Broadway luminaries, and produced popular radio shows in the 1940s and 1950s.
Well into her 70s and 80s, Sosenko was a guiding spirit of the Songwriters' Hall of Fame, now the National Academy of Popular Music, and produced a series of spectacular all-star theatrical tributes to Dorothy Fields, Richard Rogers, Joshua Logan, George Abbott, Ethel Merman, Mary Martin, Carol Channing, Alan Jay Lerner, Frederick Loewe, Jule Styne and others.
Wikepedia, The Anna Sosenko Assist Trust