Here are four extraordinary women, MARY ASTOR (above), JEAN ARTHUR, CLAUDETTE COLBERT and MYRNA LOY, who moved from silent film actors to famous leading ladies in the "talkies". You name it, they did it, from exotic "oriental goddess" to screwball commedian; helping turn hollywood into… HOLLYWOOD.
MARY ASTOR
Mary Astor (born Lucile Vasconcellos Langhanke; May 3, 1906 – September 25, 1987) career began as a child actor in silent films and continued for 45 years, making 109 movies She had a successful career in theatre and became a star in television. Given all the rolls she created she is most remembered for her performance as Brigid O'Shaughnessy in The Maltese Falcon (1941).
For her performance in The Great Lie (also in 1941) she won an Oscar as Best Supporting Actress. As Sandra Kovak, the self-absorbed concert pianist who relinquishes her unborn child, her intermittent love interest was played by George Brent, but the film's star was Bette Davis. Davis wanted Astor cast in the role after watching her screen test and seeing her play Tchaikovsky's Piano Concerto No. 1. She then recruited Astor to collaborate on rewriting the script, which Davis felt was mediocre and needed work to make it more interesting. Astor further followed Davis's advice and sported a bobbed hairdo for the role. Davis deliberately stepped back to allow Astor to shine in her key scenes. In her Oscar acceptance speech, Astor thanked Bette Davis and Tchaikovsky. Astor and Davis became good friends.
For a detailed description of her life see, Wikipedia, Mary Astor.
MARY ASTOR | CONVENTION CITY (1933)
[Los Angeles: Warner Brothers-First National, 1933]. Vintage original rare pre-code 8 x 10″ (20 x 25 cm.) black-and-white glossy silver gelatin photo of MARY ASTOR.
The above photograph is Mary Astor, sassy and classy as she displays her jewels, including a very contemporary pair of dangling earrings in a portrait for this now legendary lost film. So scandalized were the censors at the provocativeness of this pre-Code film that the legion of decency condemned it. In fact, it may not have been seen much past its Dec. 1933 release. It could never be reissued and Warners junked the negative in 1948, but it is not certain that all 500 initial prints were destroyed. The story involved the naughty goings-on when businessmen attend a convention in Atlantic City.
MARY ASTOR WEARS HARRY COLLINS DESIGN FASHION (1931)
From 1910-50 Harry Collins was a name known across the United States. To simple housewives, first ladies and stars of the stage and screen that sported his designs, Collins was synonymous with American fashion. A New York designer, author and philanthropist, Collins was both prolific and celebrated during his nearly fifty-year career as a "dress artist".
BOGART, COWAN, ASTOR | THE MALTESE FALCON (1941)
Sam Spade (Humphrey Bogart) and his partner Miles Archer (Jerome Cowan) meet the story's femme fatale Brigid O'Shaughnessy (Mary Astor) in an early scene from the film. This is a well utilized photo, likely used for many publishing projects since the 1941 printing.
JEAN ARTHUR
Jean Arthur (born Gladys Georgianna Greene; October 17, 1900 – June 19, 1991) was an American Broadway and film actress whose career began in silent films in the early 1920s and lasted until the early 1950s. The turning point in Arthur's film career came when she was chosen by Frank Capra to star in Mr. Deeds Goes to Town (1936). Mr. Deeds was critically acclaimed and propelled her to international stardom. In 1936 alone, she earned $119,000, more than the President of the United States and baseball star Lou Gehrig combined. She was then teamed with Gary Cooper as Wild Bill Hickock and she as Calamity Jane in Cecil B. DeMille's The Plainsman (1936). She followed this with another screwball comedy, Capra's You Can't Take It with You; (1938), which teamed her with James Stewart. The film won an Academy Award for Best Picture, with Arthur getting top billing. Arthur retired when her contract with Columbia Pictures expired in 1944 and turned down virtually all film offers. The two exceptions being Billy Wilder's A Foreign Affair (1948), in which she played a congresswoman and rival of Marlene Dietrich's , and as a homesteader's wife in the classic Western Shane (1953), which turned out to be the biggest box-office hit of her career. The latter was her final film, and the only color film in which she appeared.
For a detailed description of her life see, Wikipedia, Jean Arthur.
JEAN ARTHUR AS CALAMITY JANE | THE PLAINSMAN (1936)
JEAN ARTHUR | THE RETURN OF DR. FU MANCHU (1930)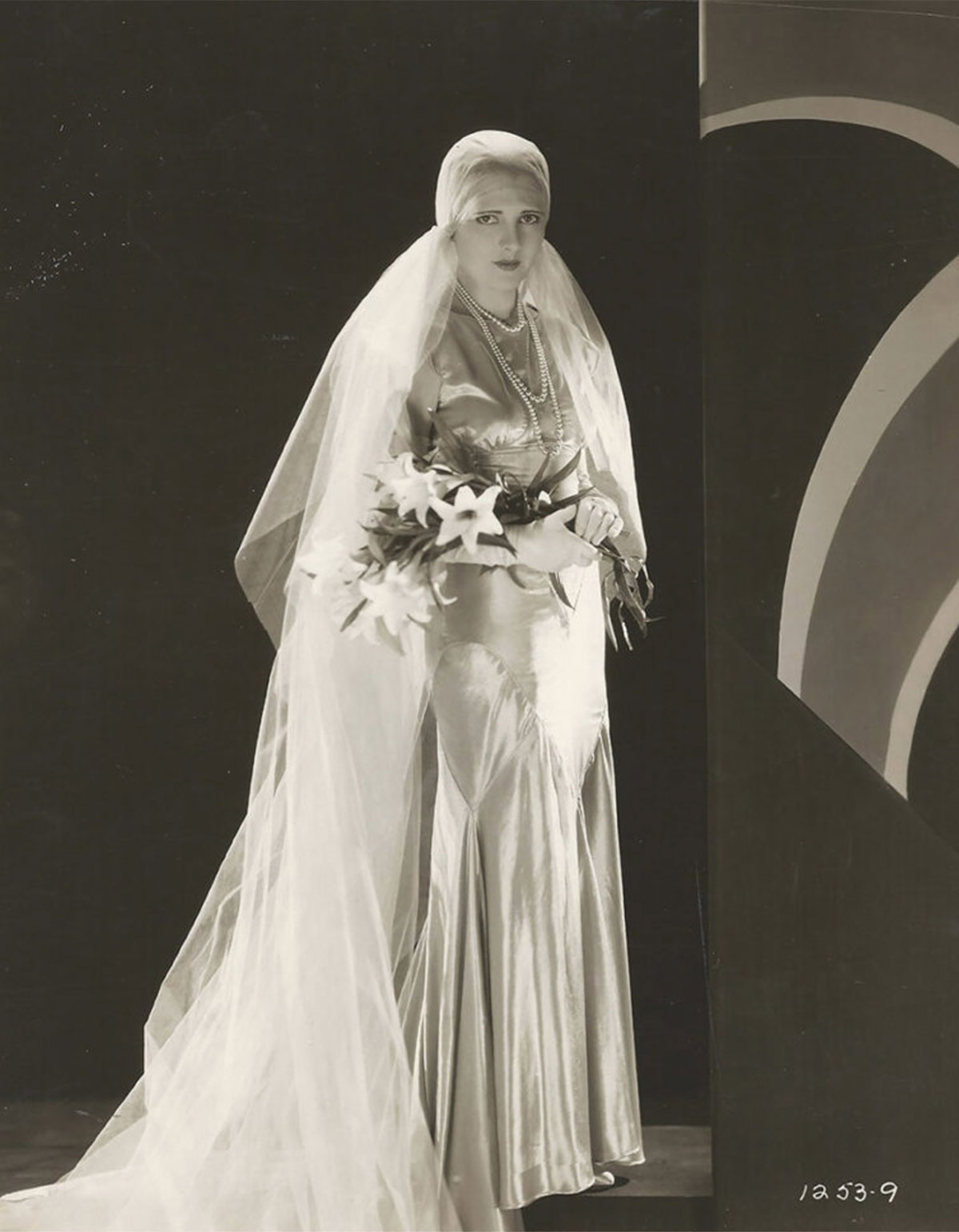 Jean Arthur made her second appearance as the character Lia Eltham in the Fu Manchu series in The Return of Dr. Fu Manchu. Starting as a leading lady in silent Westerns, Arthur paid her dues playing the leading lady in all genres during the 1920s and transitioned to talkies, where her unique voice made her a popular favorite. She became a lead star of the 1930s and 1940s. She was adored by co-stars and directors, Frank Capra saying she was his favorite actress.
JEAN ARTHUR ABOUT TO PLAY GOLF (ca. 1929)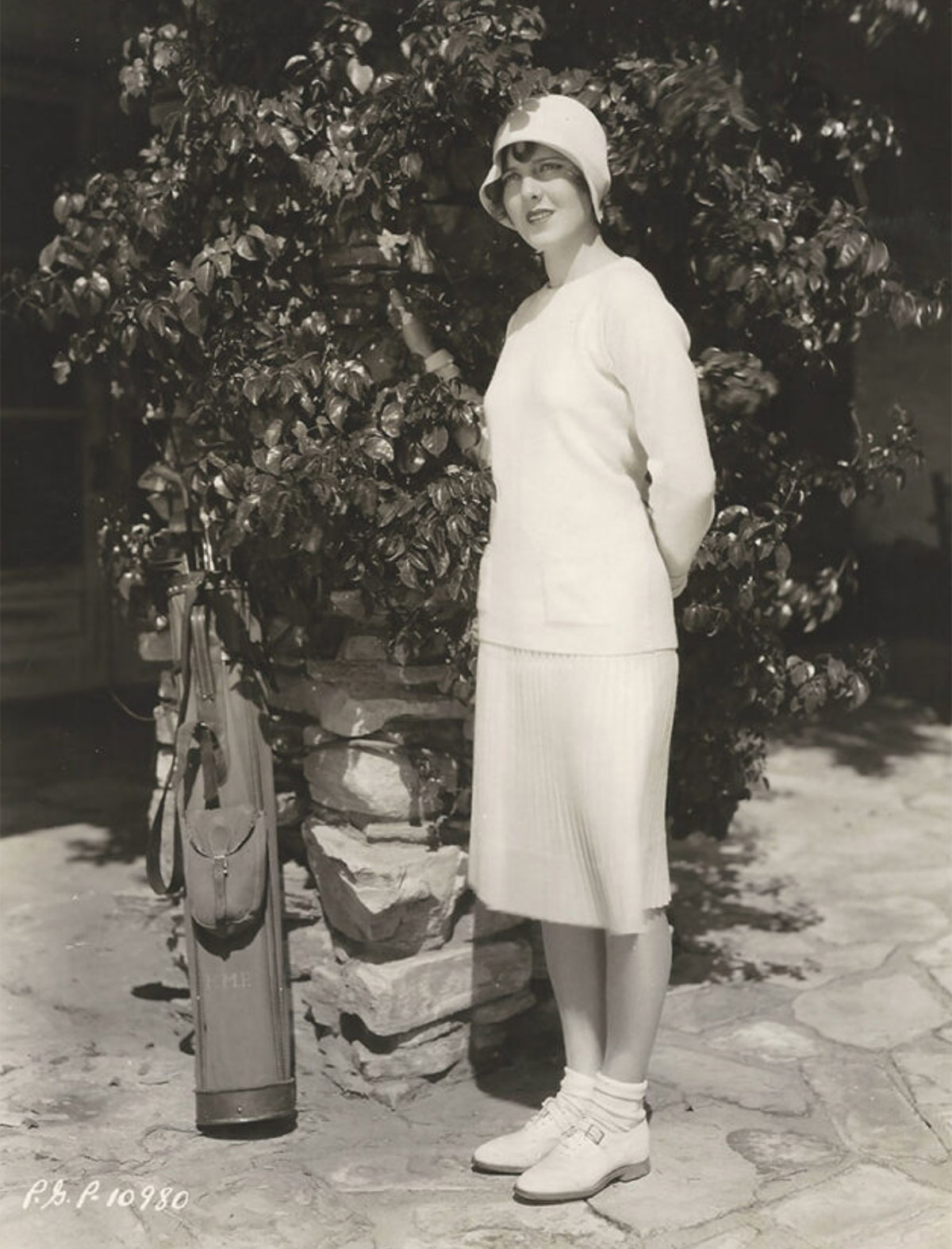 Jean Arthur models the epitome in sportswear of 1929 and is ready to play golf in the California sun and is likely from her early star contract days at Paramount.
CLAUDETTE COLBERT
Claudette Colbert; (born Émilie Claudette Chauchoin September 13, 1903 – July 30, 1996) was an American actress. Colbert began her career in Broadway productions during the late 1920s and progressed to films with the advent of talking pictures. Initially contracted to Paramount Pictures, Colbert became one of the few major actresses of the period who worked freelance, independent of the studio system. She won the Academy Award for Best Actress for It Happened One Night (1934), and received two other Academy Award nominations during her career. Colbert's other notable films include Cleopatra (1934), The Palm Beach Story (1942) and Since You Went Away (1944). With her witty dialogues, aristocratic demeanor, and flair for light comedy and emotional drama, Colbert's versatility led to her becoming one of the most popular and highest paid stars of the 1930s and 1940s. In all, Colbert starred in more than 60 movies. In 1999, the American Film Institute named Colbert the 12th-greatest female star of classic Hollywood cinema.;
For a detailed description of her life see, Wikipedia, Claudette Colbert.
CLAUDETTE COLBERT | IMITATION OF LIFE (1934)
Wearing a lovely, tasteful gown by Travis Banton, elegant clip, bracelet, earrings and with her cropped hair, Claudette Colbert displays a style which is still contemporary (thanks to makeup artist Dottie Ponedel). This publicity image is to promote the original filmed version of Fanny Hurst's groundbreaking story of interracial friendship.
CLAUDETTE COLBERT | IT HAPPENED ONE NIGHT (1934)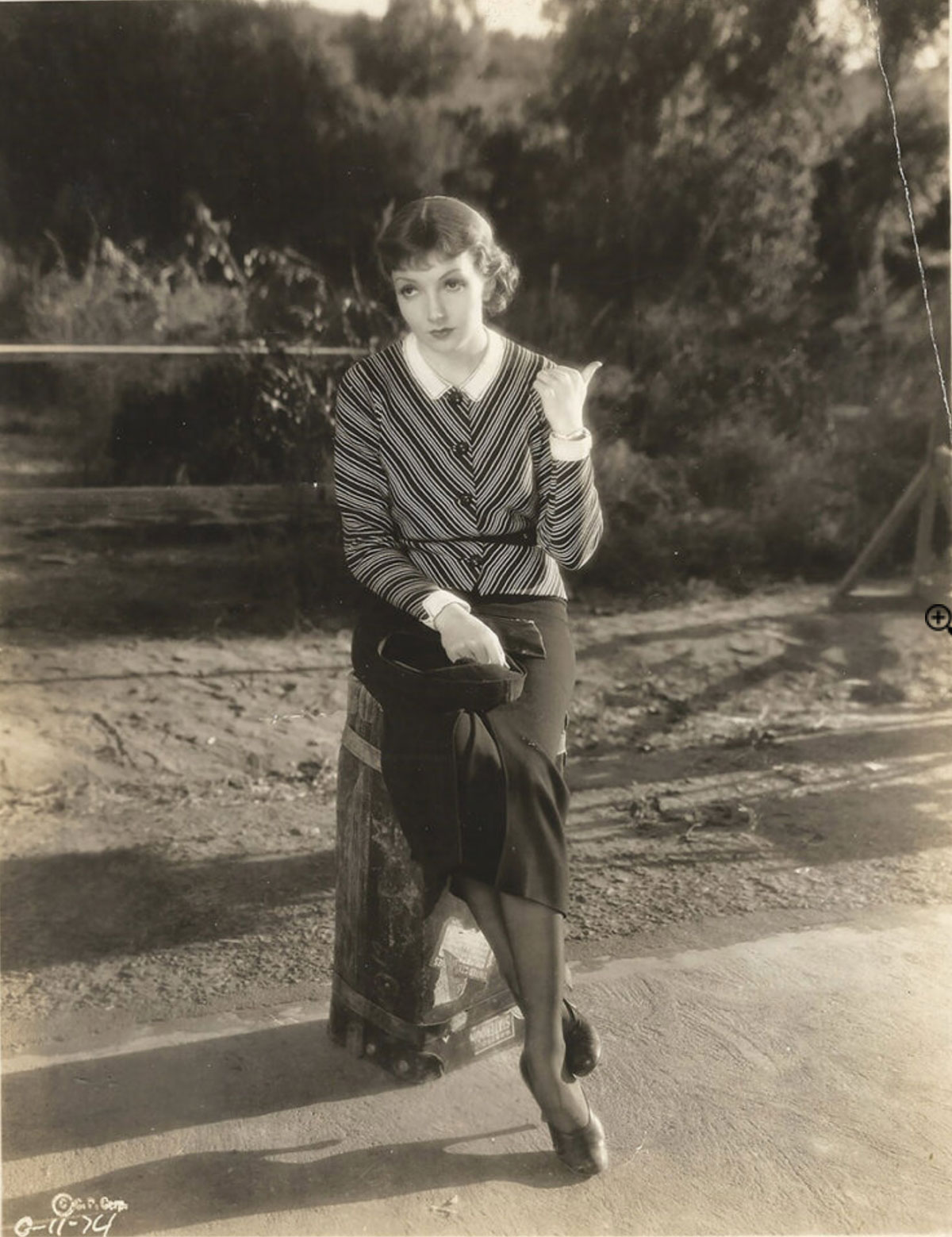 CLAUDETTE COLBERT & CLARK GABLE | IT HAPPENED ONE NIGHT (1934)
Clark Gable and Claudette Colbert pose with the suitcases they take on "The Nightbus" (the film's first title) for an image to be used in publicity. It is possible that this image was not used as Columbia took little interest in promoting what they thought was going to be a failure. It was the definite sleeper of the year, so popular and brilliant in all areas of filmmaking that it was the first and one of the few films ever to win all of the major Academy Awards.
MYRNA LOY
Myrna Loy (born Myrna Adele Williams; August 2, 1905 – December 14, 1993) was an American film, television and stage actress. She was known for her ability to adapt to her screen partner's acting style. Discovered by production designer Natacha Rambova, he helped facilitate film auditions for her, and she began obtaining small roles in the late 1920s, Loy devoted herself fully to an acting career following a few minor roles in silent films. She was originally typecast in exotic roles, often as a vamp or a woman of Asian descent, but her career prospects improved greatly following her portrayal of Nora Charles in The Thin Man (1934).
This role helped elevate her reputation and she became known as a versatile actress adept at both drama and comedy and would reprise the role of Nora Charles five more times. Loy's performances peaked in the 1940s, with films like The Thin Man Goes Home, The Best Years of Our Lives, The Bachelor and the Bobby-Soxer, and Mr. Blandings Builds His Dream House. Although Loy was never nominated for an Academy Award, in March 1991 she received an Honorary Academy Award in recognition of her life's work both onscreen and off, including serving as assistant to the director of military and naval welfare for the Red Cross during World War II, The Guardian named her one of the best actors never to have received an Academy Award nomination. However, in 1988 she received a Kennedy Center Honor and 1991 she received an Academy Honorary Award "for her career achievement".
For a detailed description of her life see, Wikipedia, Myrna Loy
MYRNA LOY | THE MASK OF FU MANCHU (1932)
Myrna Loy would soon become the woman any man would want to come home to, but her career went through several metamorphoses, including her period of playing what were called "exotic" roles. Loy was extravagantly gowned by Adrian and bejeweled by Joseff of Hollywood. A posed portrait, with sepia tint to the image.
WILLIAM POWELL, MYRNA LOY | LIBELED LADY (1936)
This was the fifth of fourteen film pairings of team William Powell and Myrna Loy. They are forever remembered as the perfect Nick and Nora Charles of the Thin Man series. Their characters were at odds with each other in this highly regarded screwball comedy. This exquisite portrait of the couple is likely by photographer Laszlo Willinger.
LIBELED LADY | INSERT POSTER (1935)
One of the finest screwball comedies of the 1930s. A most popular genre, this time given the opulent MGM treatment with all-star cast, Jean Harlow, William Powell, Myrna Loy, Spencer Tracy, Cedric Gibbons art direction and Lawrence Weingarten as producer.