WalterFilm.com's fourth catalog (#45/2020) contains 96 pages that include vintage original photographs, posters, programs, pressbooks, lobby cards and film scripts. The categories encompassed are: Featured, Film Noir, Directors, Poster Art, LGBTQ, Comedy, Women, Literature and African Americana.
The catalog's cover (above) is the original poster from the play PORGY by Dorothy and Dubois Heyward, which became the source for the opera PORGY AND BESS with book by Dubois Heyward and music and lyrics by George and Ira Gershwin.
Catalog Categories
The following are the Categories included in the Catalog along with a description of  two example pages. You can experience the actual catalog in a flip-file that will allow you to view it as though you were holding it in your hand and flipping from page to page by clicking "View Catalog."
We hope you enjoy exploring this remarkable collection; and, should you care to purchase a piece (assuming it hasn't already sold), just go to the website and search for the item's name or contact us at 323-422-1564 or email us at info@walterfilm.com.
FEATURED
The 1909 vintage original Art Nouveau poster for the short, LES HEURES, produced by Gaumont (Paris) and directed by Louis Feuillade, with one episode for each time of the day: Morning, Afternoon and Evening. The 1950 vintage original Saul Bass designed poster for the 20th Century Fox film NO WAY OUT, staring Sidney Poitier in his film debut.
FILM NOIR
Two vintage original portraits of Rita Haworth from the 1947 Columbia Picture's film THE LADY FROM SHANGHAI, directed by Orson Wells. A vintage original portrait of Lauren Bacall from the 1945 Warner Brothers film THE BIG SLEEP (Raymond Chandler, source, Howard Hawks, director) and an original 1975 Swedish Pop Art poster for the same film.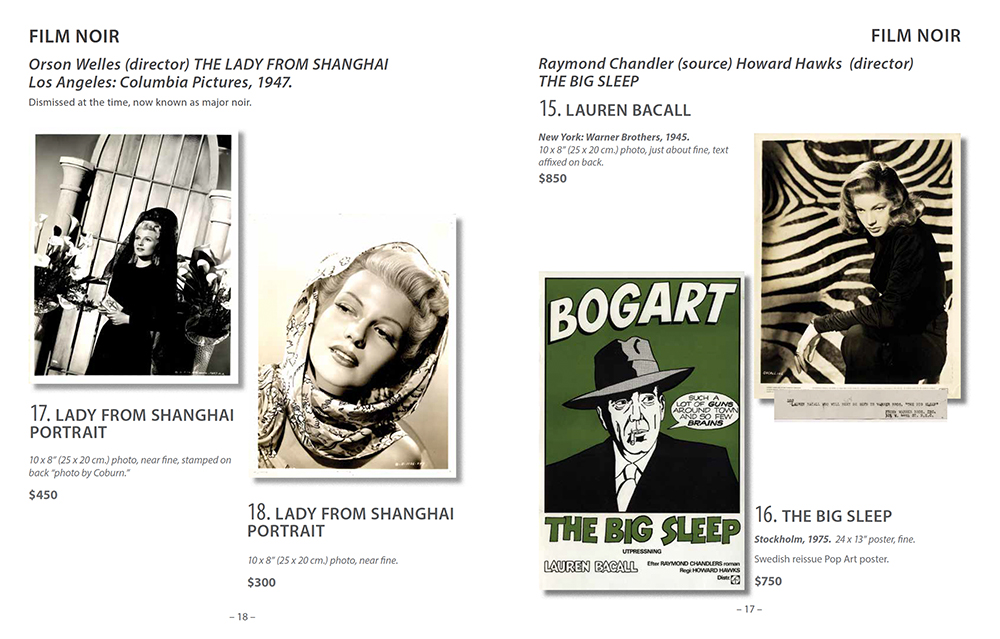 DIRECTORS
From Ingmar Bergman's 1962 film WINTER LIGHT, a vintage original poster and a set of 15 – 9¼" x 13¾" photographs. Paddy Chayefsky's Oscar winning screenplay for the Sidney Lumet directed 1975 film NETWORK.
POSTER ART
Very rare 1938 vintage original poster for the MGM film SWISS MISS, a Laurel and Hardy operetta/comedy about two mousetrap salesmen who hoped to strike it rich in Switzerland. A 1948 vintage original Ercole Brini illustrated poster for the Italian release of Julien Duvivier's film ANNA KARENINA starring Vivien Leigh.   

LGBTQ
The final draft of the vintage original screen play for Joe Orton's LOOT. A portrait and photograph of two of Hollywood's most famous gay stars Hiding In Plain Sight: Tab Hunter and George Maharis.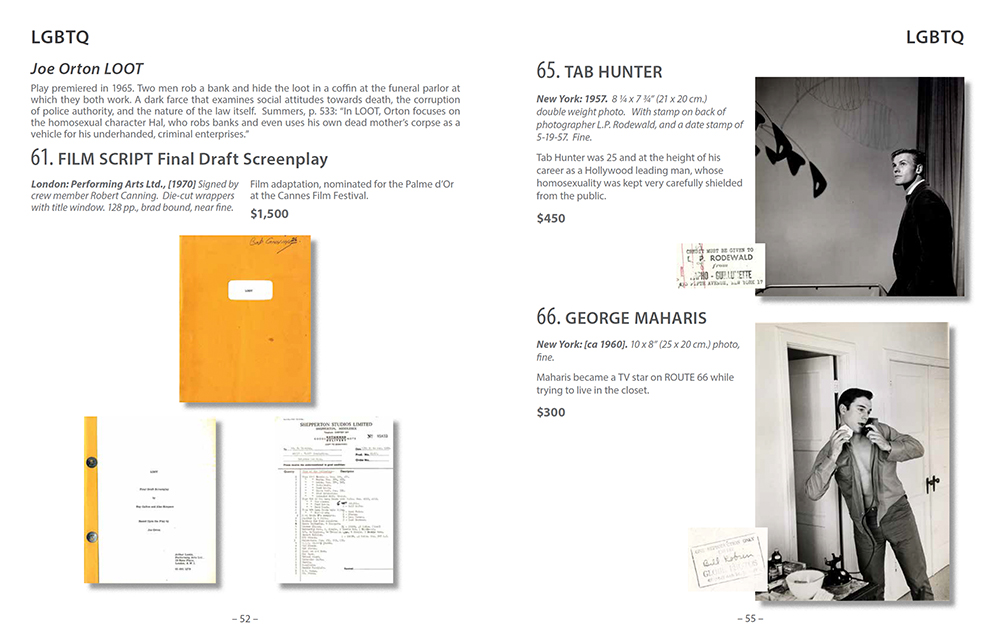 COMEDY
Vintage original Saul Bass designed poster for 1963 United Artists, Stanley Kramer classic, IT'S A MAD, MAD, MAD, MAD WORLD and the 1970 profusely illustrated program for the Sydney release of Mel Brooks' THE TWELVE CHAIRS. Two vintage original publicity photographs for the Marx Brothers' first feature film, Paramount's 1929, THE COCOANUTS, and the 1935 MGM film, A NIGHT AT THE OPERA.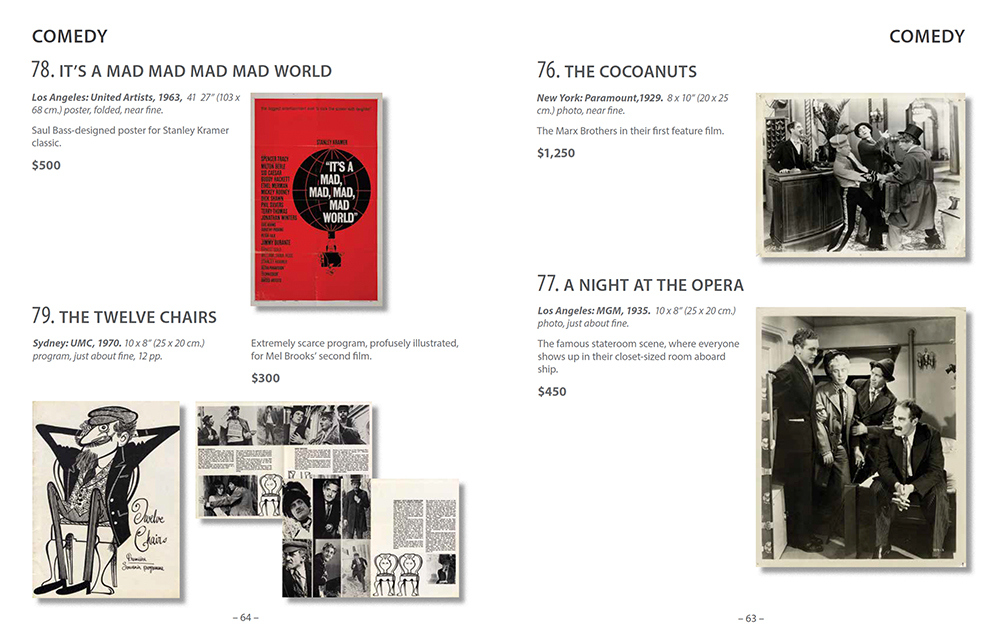 WOMEN
Vintage original television script for Mike Nichols' film of Gilda Radner's one-woman Broadway show, GILDA RADNER LIVE ON BROADWAY, along with her photograph signed by Radner. Vintage original 1932 publicity portrait of Katharine Hepburn for her film debut in RKO's BILL OF DIVORCEMENT.

LITERATURE
Vintage original final draft of the screenplay by Stehen Geller of Kurt Vonneguts' SLAUGHTERHOUSE-FIVE. Stephen King's 1980 vintage original script for CREEPSHOW.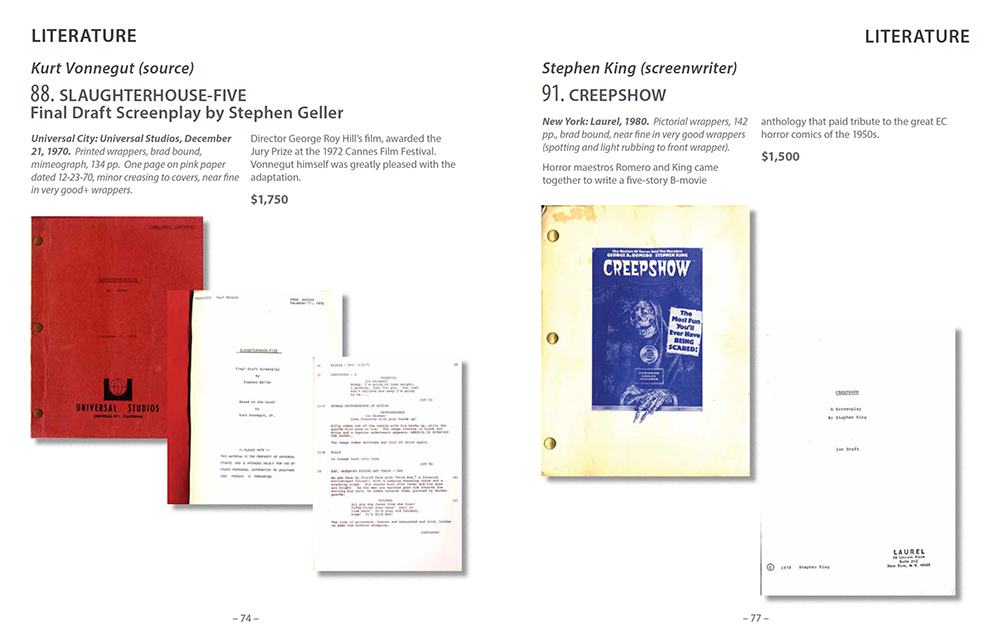 AFRICAN AMERICANA
Two vintage original lobby cards for the 1943 MGM film CABIN IN THE SKY, starring Lena Horne and directed by Vincente Minnelli. Vintage original poster for the 1975 Washington D.C. tryout of the Houston Grand Opera production of Scott Joplin's ragtime opera, TREEMONISHA.