WalterFilm.com's second catalog (#43/201) contains 84 pages and encompasses ten categories that include The Saint Poster Collection , (33 posters (1982-2004) from one of New York City's most notorious gay discos) and a Katharine Hepburn Archive of 230 vintage photos chronicling her 62-year motion picture career.
The catalog's cover (above) is graced by a stunning Japanese poster of Luis Bunuel's masterpiece of erotica "Belle De Jour" focusing on a collage of images of the film's star, Catherine Deneuve.
Below are several catalog pages and description of its contents or CLICK HERE if you'd like to view the entire catalog as a Flip File.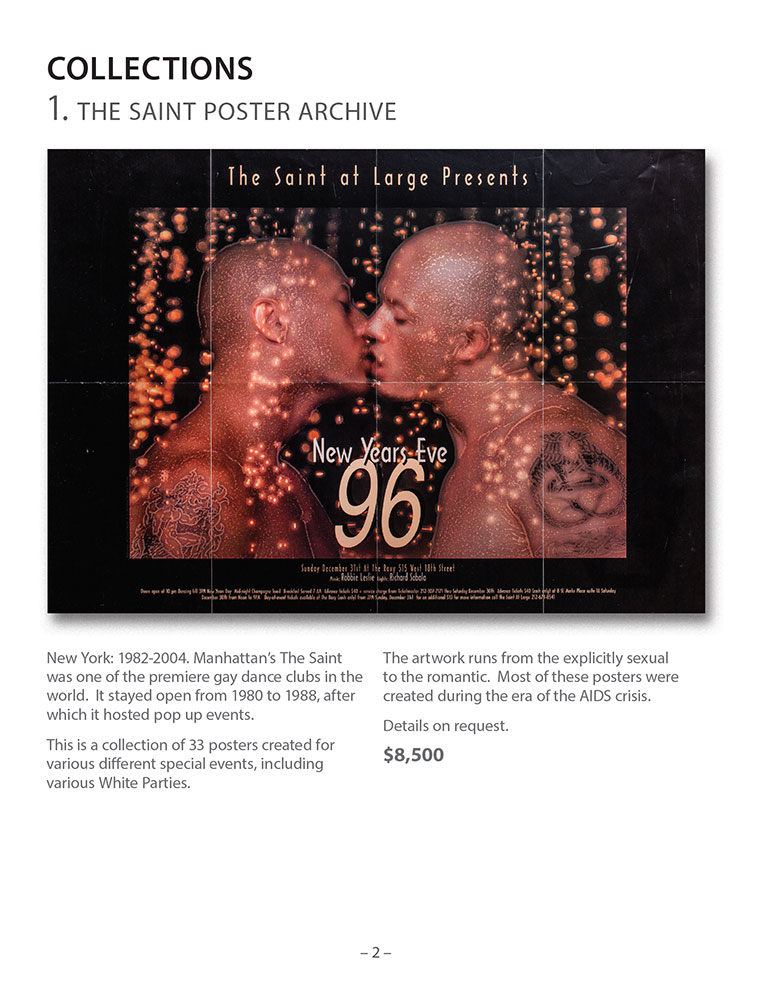 CATALOG'S CATEGORIES
The following are the categories included in the Catalog along with a brief description. You can experience the actual catalog in a flip-file that will allow you to view it as though you were holding it in your hand and flipping from page to page. Just  go to the bottom of the page and click on, "VIEW CATALOG".  We hope you enjoy exploring this remarkable collection; and, should you care to purchase a piece (assuming it hasn't already sold), just go to the website and search for the item's name or contact us at 323-422-1564 or email us at info@walterfilm.com.
COLLECTIONS – We are offering two collections created for this catalog:

The Saint Poster Archive – This is a collection of 33 posters created for various different special events, including various White Parties. The artwork runs from the explicitly sexual to the romantic.
Shakespeare In Film – A collection of 166 pieces (programs, pressbooks, posters, photos) 1916-2015 from 66 films and 15 different countries that reflect the work of George Cukor, Laurence Olivier, Kenneth Branagh, Trevor Nunn, Julie Taymor and Max Reinhardt.

LGBTQ – A number of photographs, posters, screnplays and programs that reflect the evolution of the LGBTQ community, including photographs of film director, Dorothy Arzner, one of the top tennis players of the 20thCentury, Bill Tilden, pressbook for Noel Coward's "Design For Living," Rock Hudson paper doll cut-out book, Kenneth Anger special printed presentation, screenplay for "Prick Up Your Ears," and screenplay for "Longtime Companion by Craig Lucas.
WARHOL – One screenplay, "The Telephone Book" and three posters including the exceedingly rare poster for "Glamor Glory and Gold The Life & Legend of Nola Noonan Goddess & Star."
AFRICAN AMERICANA – This collection consists of film scripts and photographs of musicians, actors and Broadway shows that include Josephine Baker, Ethel Watters in "Pinky," and the screenplay by Richard Pryor of "Bustin' Loose."
DIRECTORS – Here are the film directors whose work is represented here: George Cukor, Mike Nichols, Frank Capra, John Huston, Akira Kurosawa, Tim Burton, Howard Hawks, Orson Wells, Coen Brothers, Bob Fosse, Penny Marshall, Luis Bunuel, John Frankenheimer, John Carpenter and Federico Fellini.
LITERATURE INTO FILM – This category is filled with film scripts, lobby cards, posters and photographs whose origin came from books, short stories and plays. They include: "The Body Snatchers," "Dark Passage", "Alice In Wonderland," "Cat On A Hot Tin Roof," "To Kill A Mockingbird," "The Prisoner of Second Avenue," "The Cheap Detective," "The Body" and "Beloved."
WOMEN – A wonderful collection of vintage photographs of women that include Katharine Hepburn Archive, Title Lobby Card, Lobby Card and screenplay for "Dragon Seed," Anna May Wong, Maartha Graham and the Liliana Cavani Collection.
THEATER – "The Threepenny Opera" poster, and Marc Blitzstein script, "A Little Night Music" .poster and Hugh Wheeler script.
EXHIBITOR BOOKS – Exhibitor books are a rare commodity and each a work of art, we have three of them: Franco Film 1929-1930 and Paramount 1933-1934.
ADDENDA – 1934 Trade Advertisement for Alfred Hitchcock's "The Man Who Knew Too Much," 1938 photograph of John Garfield in Clifford Odets play, "Awake And Sing."