by David Ehrenstein
The Stonewall riots were a series of spontaneous, violent demonstrations by members of the gay (LGBT) community against a police raid that began in the early morning hours of June 28, 1969, at the Stonewall Inn in the Greenwich Village neighborhood of New York City. They are widely considered to constitute the most important event leading to the gay liberation movement and the modern fight for LGBT rights in the United States. Wikipedia
What followed in the 1970's was a rising tide of LGBTQ performers that "came out" to express their unique take on music, theater and sexual (transgender) identity. Here are 10 of those performers and a brief look at what they contributed to the movement and to our culture. Click on the image to learn more about the performer.
JAYNE COUNTY
As rock's first openly transgender singer, Jayne Rogers (born June 13, 1947), better known by her stage name Jayne County, is an American singer, songwriter, actress and record producer whose career spans five decades. While dressed in female attire from the beginning of her career, County transitioned to female in 1979, becoming Jayne (as the above poster illustrates).
She made her first performing appearances as Wayne County in Wayne County and The Electric Chairs. In 1969 she appeared in Jackie Curtis' play Femme Fatale. County considered Curtis a major influence on her career and persona and County is widely considered an influence on David Bowie –– County's Queenage Baby number was the prototype for Bowie's Rebel Rebel. Even more notable was her play, World – Birth of A Nation, which was set in a hospital and dealt with male castration –– evoking both transgender surgery and her mixed feelings about men, both gay and straight.
After seeing the play, Andy Warhol cast her in his play Pork. She went on to appear in the film The Blank Generation (1976).  Back and forth between New York and London, she settled in Atlanta Georgia. In 2018, County debuted a retrospective show of visual art in the New York City gallery, Participant, Inc.
County's life and art is considered an inspirational influence on John Cameron Mitchell's transgender rock musical Hedwig and the Angry Inch.
Jayne County "Are You Man Enough To Be A Woman"
"Wig in a Box" Hedwig and the Angry Inch
JACKIE CURTIS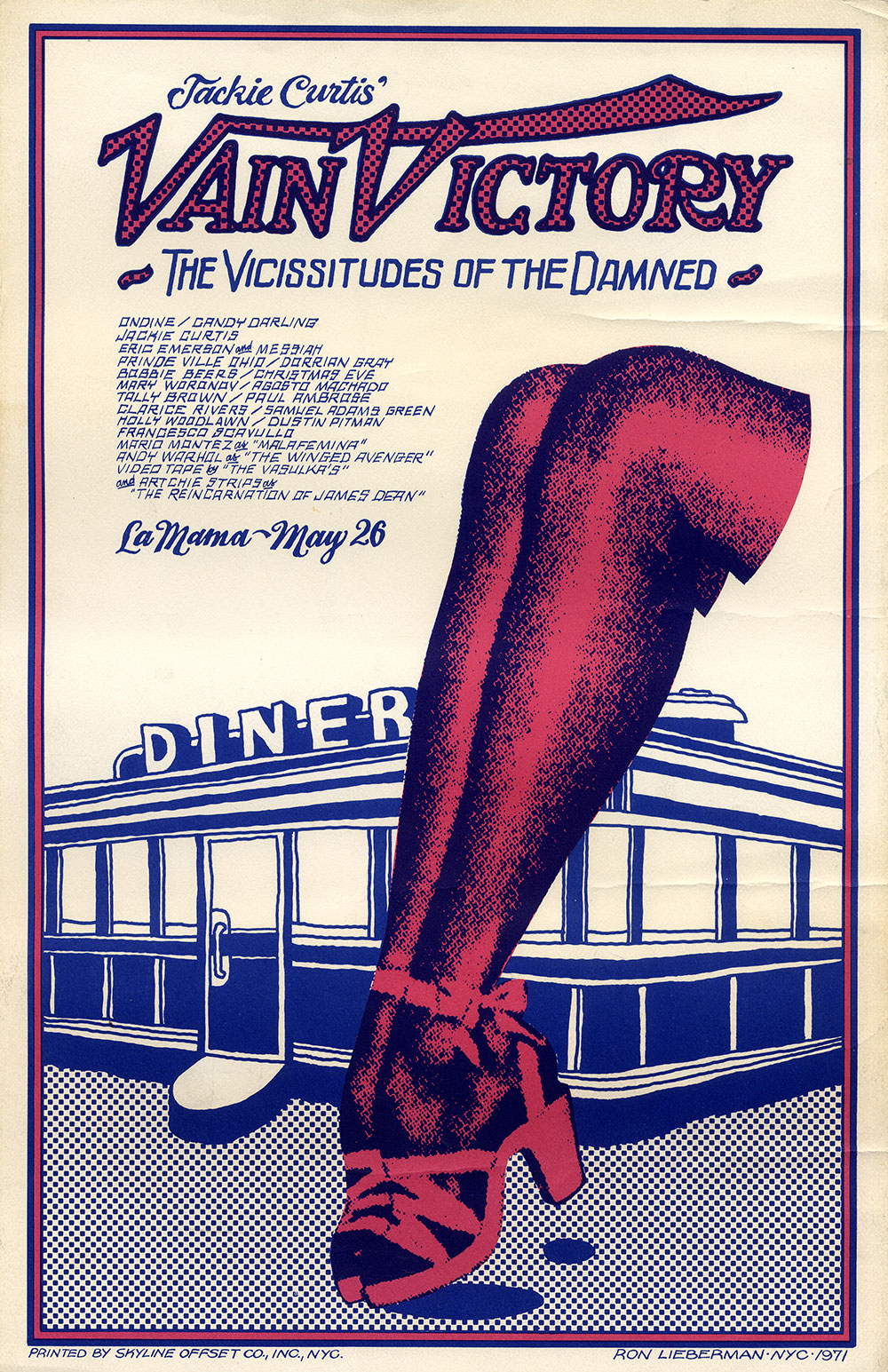 "Jackie Curtis is not a drag queen. Jackie is an artist. A pioneer without a frontier," so said Andy Warhol. Andy was right. Jackie Cutis (1947-1987) was a true original. Long before he became one of the Pop master's superstars. Curtis distinguished himself by appearing (alternately) as a James Dean-like male and a Jean Harlow-like female in Off-off Broadway plays of his own devise in which he and his friends appeared:
Glamour, Glory And Gold, co-starred Candy Darling, and Robert DeNiroin his first New York stage appearance;
Vain Victory, also starred Darling with Warhol and Jack Smith star Mario Montez;
Amerika Cleopatra featured a thin barely-known Harvey Fierstein;
Femme Fatale, starred Patti Smith, Jayne County and Penny Arcade; and
Heaven Grand In Amber Orbit toplined Holly Woodlawn. These were all makeshift, wildly tossed together affairs having little to do with plot and character but tons to do with exhibitionistic self-expression.
Outside of such Warhol films as Flesh (1968) and Women in Revolt (1972), Jackie's most notable screen appearance was in Yugoslavia agant-gardist Dusan Makvejev's W.R.: Mysteries of the Organism – a film about sex researcher Willhelm Reich, creator of the so-called Orgone Box. Makvejev felt Jackie presence in the film added a lot to his view of Reich's sexual theories.
Jackie Curtis in W.R. Mysteries of the Organism
DIVINE
Born Harris Glenn Milsted in 1945, this life-affirming, overweight transvestite was re-named Divine (after the hero/heroine of Jean Genet's Our Lady of the Flowers ) by the writer-director John Waters, who discovered her right down the block from where he lived. Through his films Waters turned a lonely overweight kid from Baltimore into one of the biggest (in every sense of the word) of all underground movie stars.
In Waters' comedies, Pink Flamingoes, Female Trouble, Polyester and Hairspray, Divine redefined what it means to be a movie star. Waters called him The Most Beautiful Woman in The World and if you've seen Divine on stage of screen you'll know why; for like his idol, Elizabeth Taylor, Divine was overwhelmingly sui generis.
While beloved for his films, Divine was a prolific LGBTQ performer on stage and in nightclubs. This above poster memorializes one of them . In this particular show — Vice— Divine appeared with many of the members of the legendary San Francisco drag troupe, The Cockettes.
Sadly, Divine (now a gay, transgender icon) died in 1988 of respiratory problems, days after the opening of his greatest acting success, Hairspray. Those lucky enough to see his club appearances also recall Divine for numbers like this —
Divine "Born To Be Cheap"
CASSELBERRY & DUPREE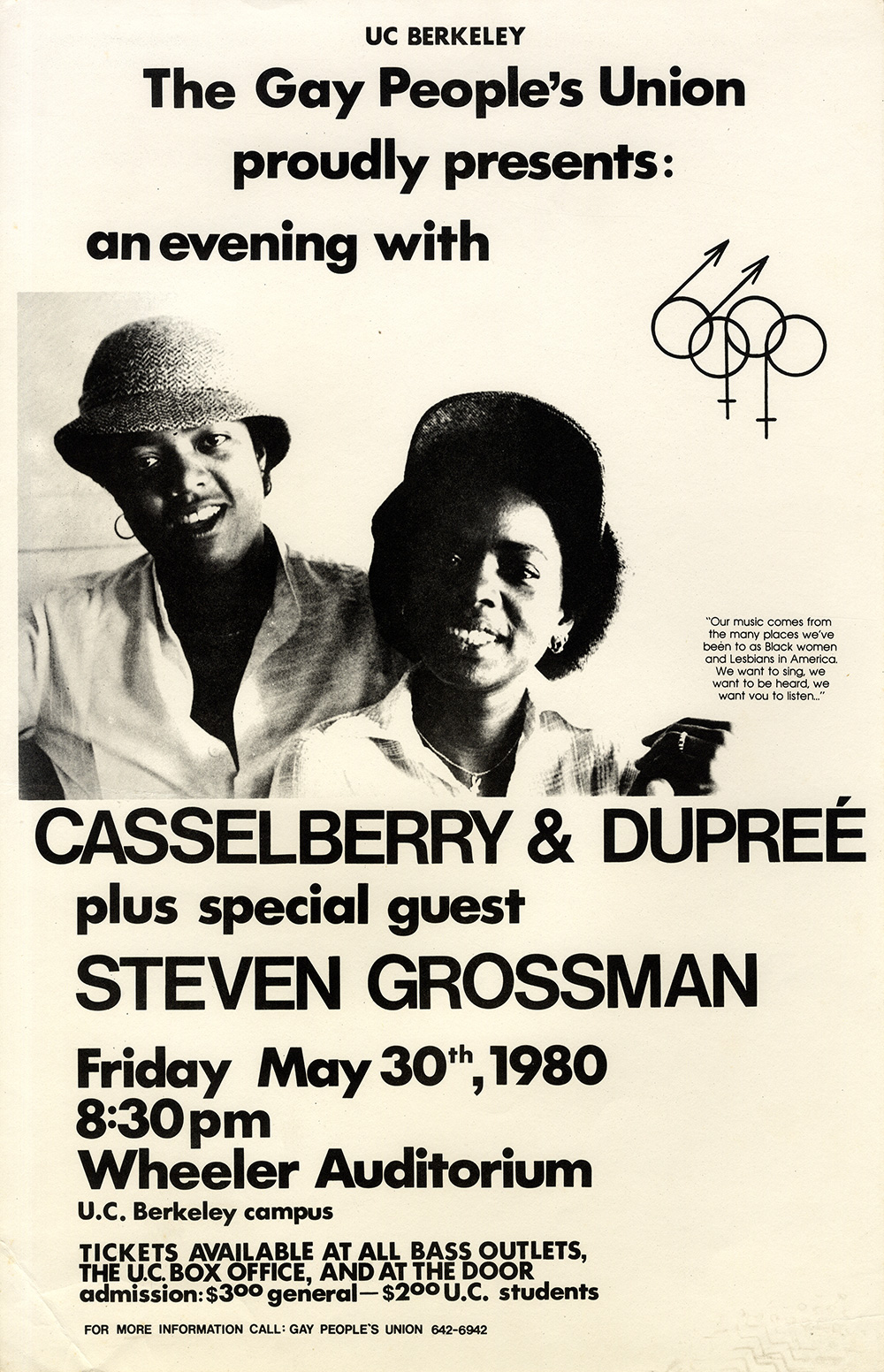 Mixing Reggae, Country and Gospel, Casselberry and Dupree are a dynamic lesbian duo who have performed with Harry Belafonte and Whoppi Goldberg, They appeared in the Oscar-nominated Art Is and the Oscar-winning The Times of Harvey Milk. The early 70s was a great time for Sapphic folk music, featured as it was at such venues as Lilith Fair. Jaqué Dupree and J. Casselberry offer a stellar example of it in:
Casselberryy and Dupree "Two of Us"
CHARLES PIERCE
Charles Piece 1926-1999 was what might be called a female impersonator (he called himself a Male Actress) who found favor with audiences both straight and gay with his knowing impressions of Bette Davis, Mae West, Tallulah Bankhead and Carol Channing, Such impersonations were quite  traditional for a comic performer of this sort. But as can be seen and heard in this clip of his rendition of Katherine Hepburn, Pierce kept pace with the blossoming LGBTQ movement with many of his zingers evidencing a keen awareness of the difference the out and proud LGBTQ movement had made in  a straight-dominated world.
Charles Pierce as Katherine Hepburn
Headlining a production of Applause was a real tour de force for Piece as this musical version of All About Eve gave him leave to do Bette Davis (star of the original film) and Lauren Bacall (star of the musical remake) at the same time.
JUDITH ANDERSON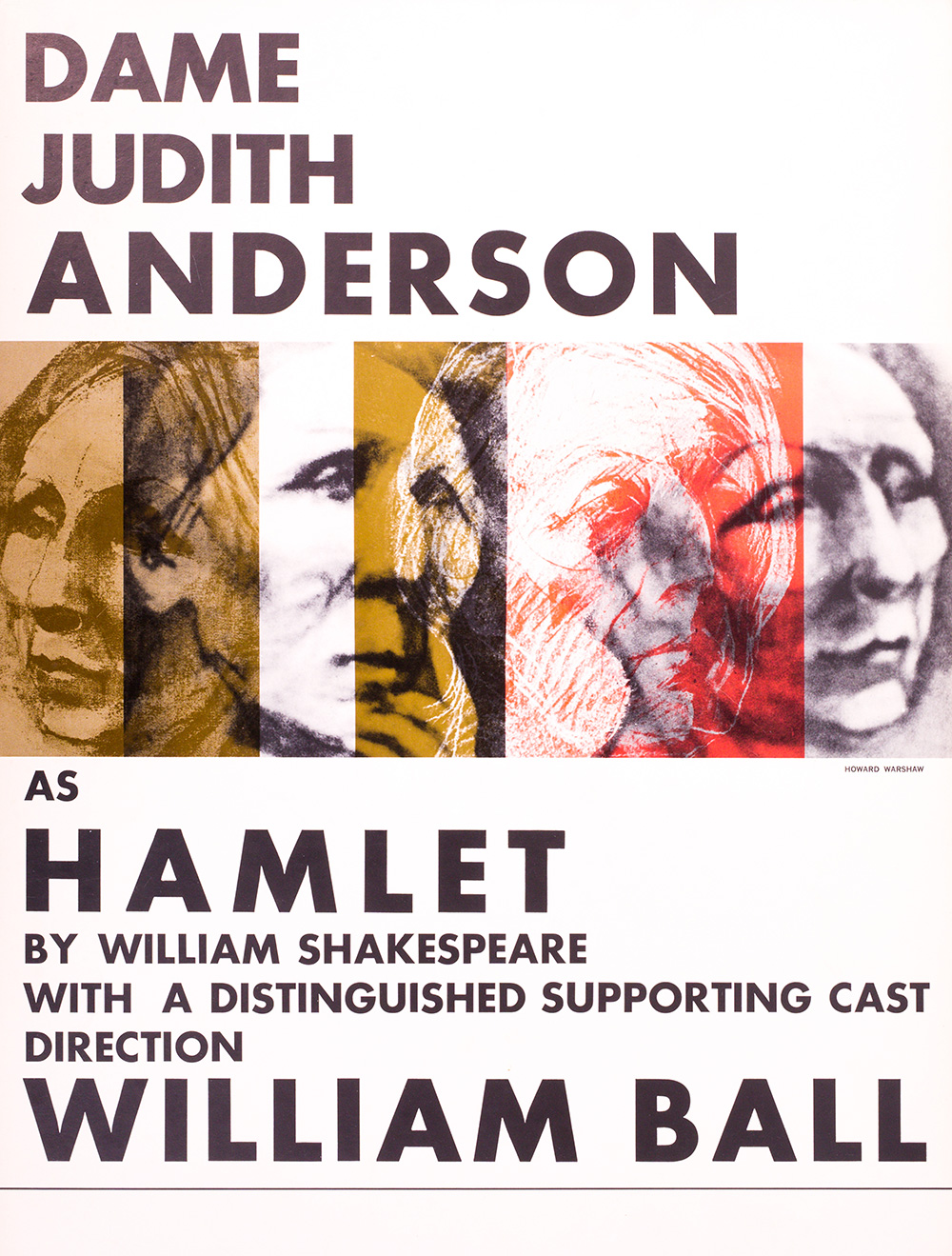 Stage and screen star Judith Anderson (1897-1992.) best remembered by the general public for playing the sinister lesbian "Mrs. Danvers" in Hithcock's Rebecca (1940) and "Ann Treadwell" the socialite who's keeping Vincent Price's "Shelby Carpenter" in Laura  The latter was quite low-key in that the character was straight, whereas "Mrs. Danvers" was a full-force lesbian.
Judith Anderson in Rebecca
Despite the obvious she was married twice. Her first husband was an English professor, Benjamin Harrison Lehmann. They were married in 1937 and divorced  in 1939. Then, in 1946, she married theatrical  producer Luther Greene. They divorced in 1951. Of these marriages Anderson said. "Neither experience was a jolly holiday."
While Sarah Bernhardt had famously performed  Hamlet in the late 19th century, few actresses have ever tried it. Taking it on at an advanced age, as Anderson did, was quite novel. Doing it when she did, put Anderson in league with the avant-garde gender-benders of the early 70s like Jackie Curtis and Holly Woodlawn.
CRAIG RUSSELL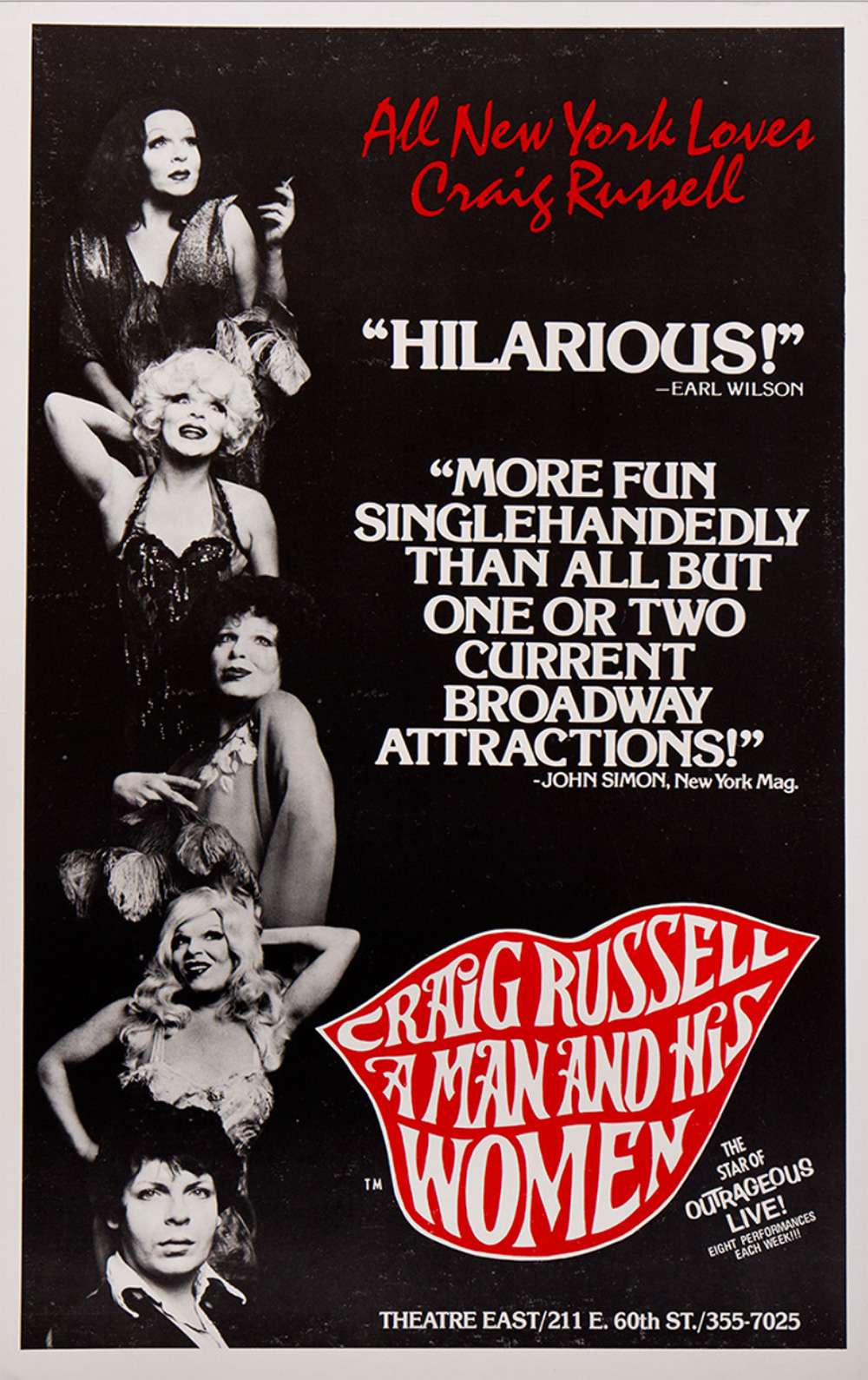 Craig Russell, born Russell Crag Easie in 1948 in Toronto Canada, this female impersonator carved out a considerable career for himself doing such stars as Bette Davis, Tallulah Bankhead and Mae West — having come to know the last-mentioned personally as he briefly worked as her secretary in Los Angeles. Many LGBTQ performers of this genre did impressions of these stars. But there was an edginess to Russell's work clearly influenced by the rise of the gay rights movement.
He toured widely, appearing in Las Vegas, Hollywood, San Francisco, Berlin, London, Paris, Amsterdam, Hamburg and Sydney, to the delight of a variety of audiences. But he won a special place in the hearts of the gay ones, as shown in the 1977 comedy-drama Outrageous in which he plays a character largely based on himself.
Interestingly, Russell — who always identified himself as gay — was bisexual. He fathered a daughter, Susan Allison, in 1973, and in 1982 married his closest female friend Lori Jenkins. The marriage lasted right through to the end of Russell's life in 1990 when he died from AIDS complications.
SYLVESTER
Sylvester James Jr. (1947-1988) was born in Los Angeles, but first came to public attention when he moved to San Francisco and joined the legendary gay hippie performance troupe The Cockettes. A genuinely original singing talent  Sylvester showcased a high, shimmering falsetto and a variety of styles encompassing gospel, disco and cabaret. His look was utterly androgynous. While he sometimes appeared in "drag" he most often sported ensembles suitable to both genders.
Wildly popular in San Francisco he performed solo shows at the city's opera house. When he died from AIDS complications the entire city mourned, along with everyone else who came to know the man and his music.
Sylvester "You Make Me Feel Mighty Real"
STEVEN GROSSMAN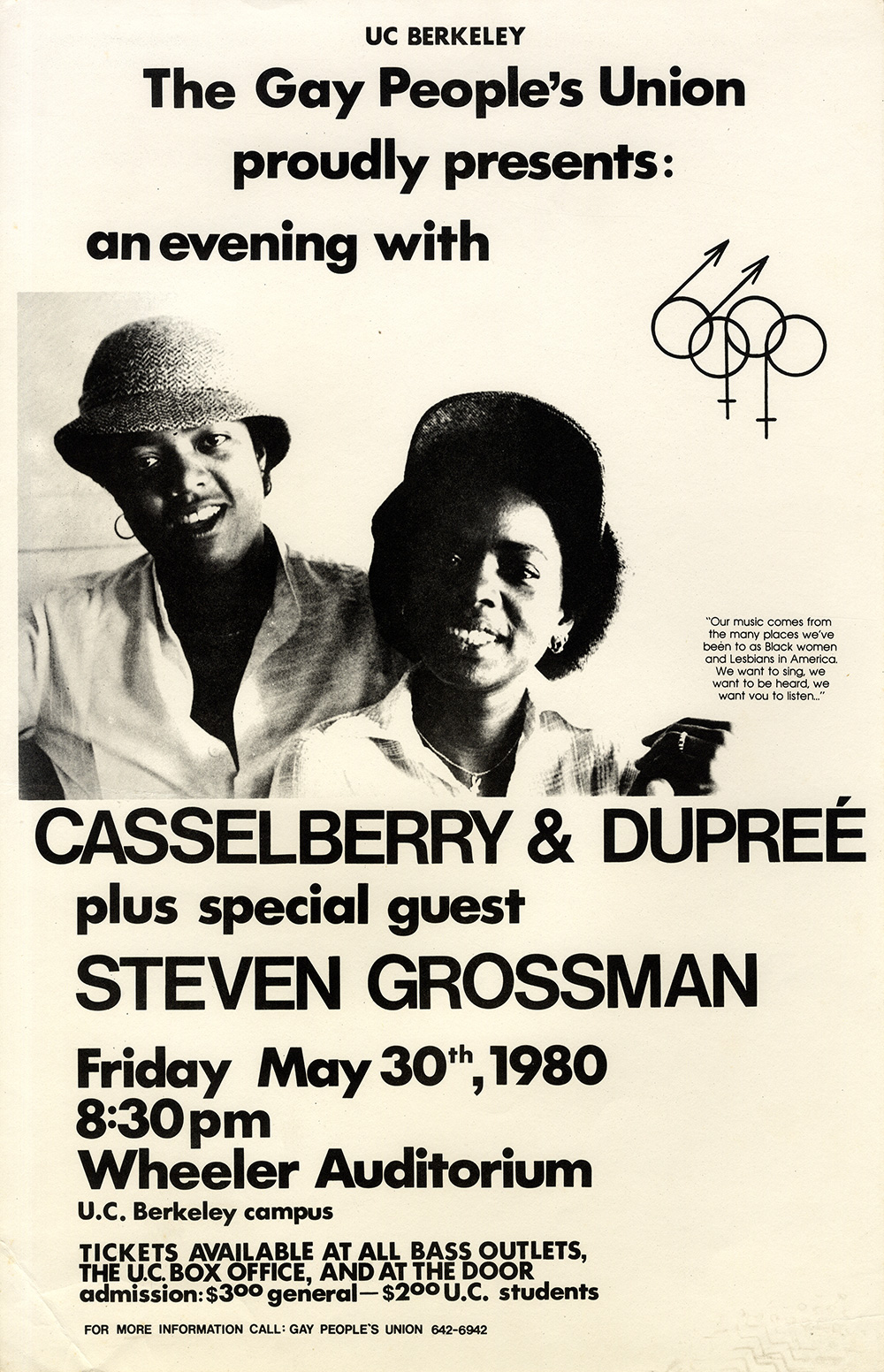 Steve Grossman (1951-1991) a gay singer-songwriter of the early 1970s whose album Caravan Tonight (1974) is distinguished as being the first album dealing with openly gay subject matter released by a major record label, Mercury Records.
He died from AIDS leaving his Joni Mitchell-inflected songs, recorded much in the style of singer-songwriter Cat Stevens, opposed to the then-current glam Bowiesque fashion of openly gay artists. Among them, "Out" is a deeply moving coming-out song directed to his Father mother and brother.
Steve Grossman "Out"
---
Our Guest Author
DAVID EHRENSTEIN
Born in 1947, David Ehrenstein has been a film critic and political commentator since 1965, writing for such publications as Film Culture, Film Quarterly, Cahiers du Cinema, and the Los Angeles Times. His books include Open Secret: Gay Hollywood 1928-2000,  The Scorsese Picture: The Art and Life of Martin Scorsese  and Cahiers du Cinema — Masters of Cinema: Roman Polanski .