From March 5-8, 2020, Walter Reuben Inc. can be found in Booth D20 at the 60th Anniversary New York International Antiquarian Book Fair located, as always, in the  legendary Park Avenue Armory, Manhattan at 643 Park Avenue (between 66th and 67th Street).
Our focus is on the glorious history of the European and Hollywood motion picture business as well as African American cultural history, black memorabilia and LGBTQ social history. As a result, we will be featuring the finest selection of vintage original movie posters, movie star photos, lobby cards, movie scripts & rare books, Hollywood movie memorabilia, African Americana and LGBTQ cultural history.
Here is a sampling of the areas that Walter Reuben represents:
LGBTQ Cultural History
Since the Stonewall Riot in June of 1969, there has been a growing interest in LGBTQ social history, so, in 2011 – forty-two years after Stonewall –  Walter Reuben Inc. made its first sale to a major institutional library of relevant items of LGBTQ cultural history. The sales continued to be made to an ever growing number of institutions and now Walter Reuben Inc. is an essential resource for material related to LGBTQ Cultural History and Memorabilia.
Vintage original photograph of Freddy Mercury in the Queen Photo Collection and a remarkable vintage original silkscreen poster for rock's first openly transgender singer, Jayne Rogers, better known by her stage name Jayne County. She was an American singer, songwriter, actress and record producer whose career has spanned five decades. Under the name Wayne County, she was the vocalist of influential proto-punk band Wayne County & the Electric Chairs.
African Americana
Walter Film.com offers a range of vintage African-American Collectibles or Black Memorabilia that celebrate the achievements of actors, artists, musicians, athletes, politicians, and other members of the black community. Vintage African Americana (vintage original star photographs, posters, lobby cards, film scripts, newspaper articles, rare books and advertising or marketing collectibles)  identified with all types of black celebrities is highly valued by collectors.
Vintage original poster for a one-woman show that  Ethel Waters premiered on Broadway on Sept. 22, 1953. She subsequently toured the show, hence this poster from a one night appearance in Asbury Park, New Jersey.
The vintage original poster for the play, "Porgy," by Dorothy and Dubois Heyward, presented by the Theatre Guild in 1927. It was the source for the world famous opera "Porgy & Bess," music and lyrics by George and Ira Gershwin and book by Dubois Heyward.
Film Posters
One of the finest vintage original poster by the legendary artist Al Hirschfeld for "Swiss Miss" starring  Stan Laurel and Oliver Hardy, This 1938 MGM "musical superfeature" combined operetta and comedy to tell the story of two mousetrap salesmen who hoped to strike it rich in Switzerland.
A vintage original three-sheet poster for the 1968 Warner Brothers' classic action-crime thriller, "Bullitt," directed by Peter Yates with an iconic performance by Steve McQueen. It is the finest and rarest of the posters created for this critically acclaimed, box office hit.
Film Scripts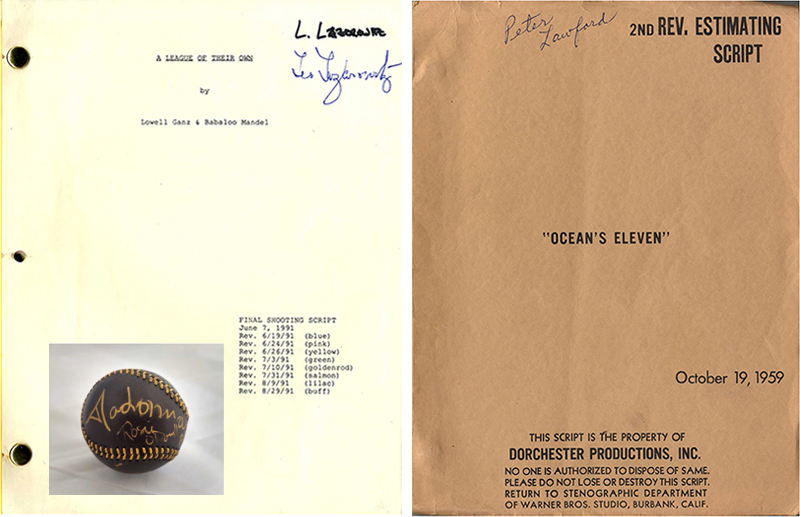 A heavily revised final shooting script of  Columbia Pictures' 1992 film, "A League Of Their Own," directed by Penny Marshall. This vintage original screenplay also travels with a black leather-covered baseball, signed in gold ink by Tom Hanks, Madonna (above), Gena Davis, Penny Marshall, Rosie O'Donnell, Robin Knight, Tracy Reiner, Janet Jones Gretzky, Pepper Pairie (one of the original league players) and Neezer Tarleton.
Peter Lawford's revised shooting script for Warner Brothers' 2001 critical and box office hit, "Ocean's Eleven." The film starred almost the entire Rat Pack, including Frank Sinatra, Dean Martin, Sammy Davis, Jr., and Lawford (who bought the rights to the story in 1958, and was involved in putting the film together).
The Park Avenue Armory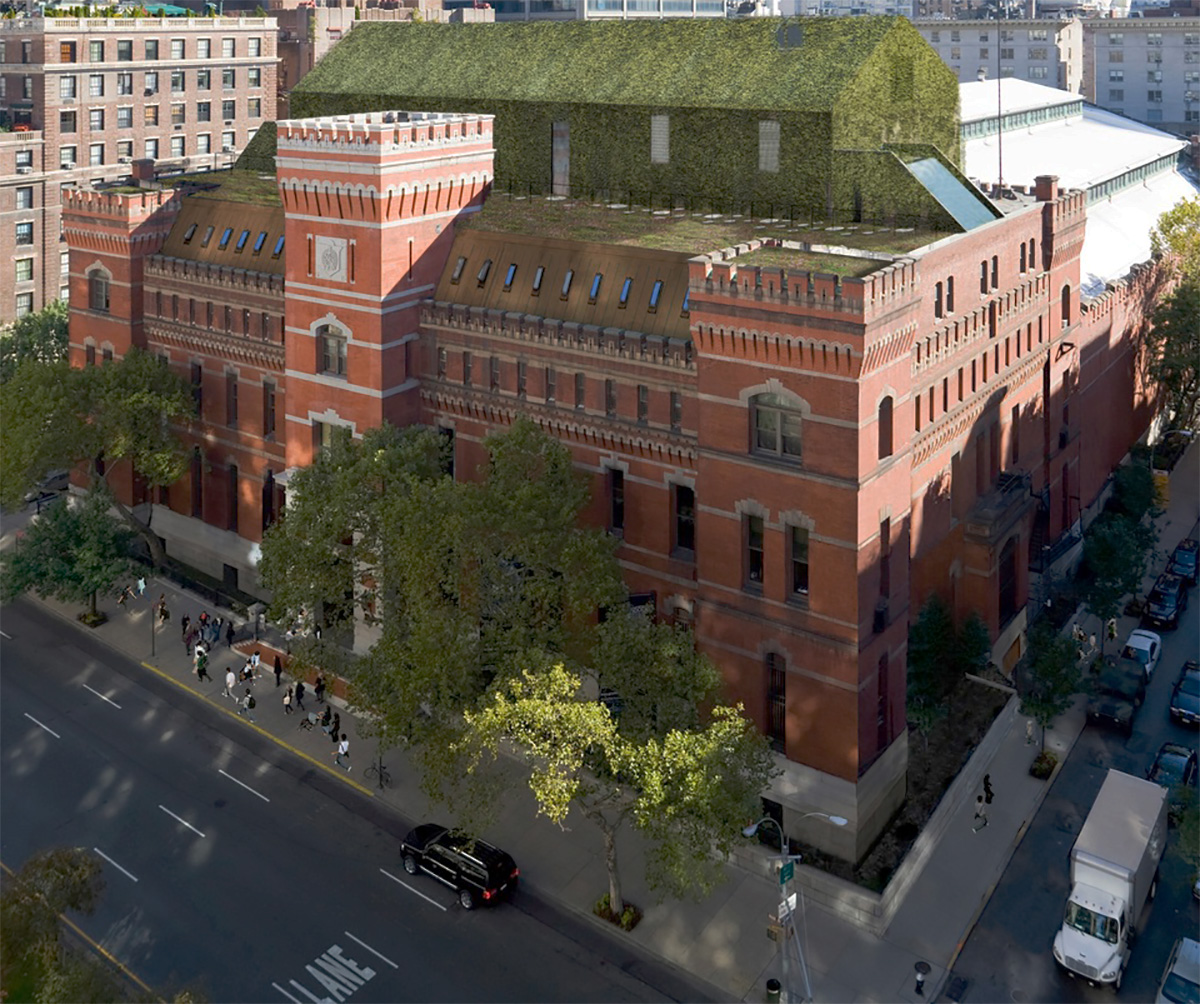 Armory History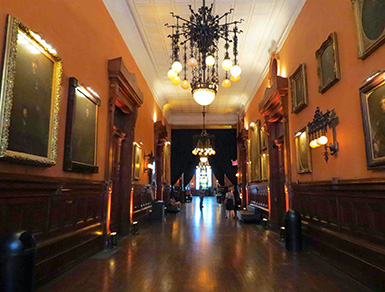 The Armory, completed in 1881, was built by New York State's prestigious Seventh Regiment of the National Guard, the first volunteer militia to respond to President Lincoln's call for troops in 1861.
Members of what was known as the "Silk Stocking" Regiment included New York's most prominent Gilded Age Families including the Vanderbilts, Van Rensselaers, Roosevelts, Stewarts, Livingstons and Harrimans.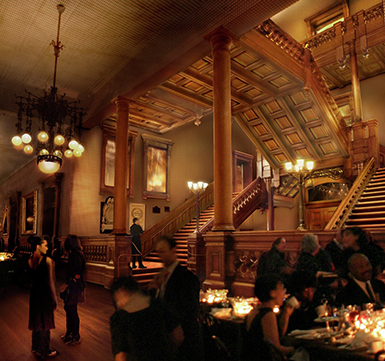 Built as both a military facility and a social club, the Park Avenue Armory has been hailed as containing "the single most important collection of nineteenth century interiors to survive intact in one building" by the New York City Landmarks Preservation Commission.
The 55,000-square-foot Wade Thompson Drill Hall, with an 80-foot-high barrel vaulted roof, is one of the largest unobstructed spaces in New York City. The Armory's magnificent reception rooms were designed by leaders of the American Aesthetic Movement, among them Louis Comfort Tiffany, Stanford White, Candace Wheeler, and Herter Brothers.
Part American palace, part industrial shed, Park Avenue Armory is dedicated to supporting unconventional works in the visual and performing arts that need non-traditional spaces for their full realization, enabling artists to create, students to experience, and audiences to consume epic and adventurous presentations that cannot be mounted elsewhere in New York City.
Since 2007, the Armory has opened its doors to visionary artists, directors, and impresarios who provided extraordinary experiences in a range of art forms. Such was its impact that in December 2011, The New York Times noted, "Park Avenue Armory…has arrived as the most important new cultural institution in New York City." From: http://www.armoryonpark.org/about_us/history
About The Fair
Over 200 American and international dealers will exhibit at The ABAA New York International Antiquarian Book Fair, and bring a vast selection of rare books, maps, manuscripts, illuminated manuscripts and ephemera. The diversity of specialties includes art, medicine, literature, film, photography, autographs, first editions, LGBTQ cultural history, African Americana, and much more.
The book fair is officially sanctioned by the Antiquarian Booksellers' Association of America and the International League of Antiquarian Booksellers. This means that the consumer can rely upon the experience and professionalism of participating dealers and the authenticity of the items available for purchase. Simply stated, all books, manuscripts and related material have been carefully examined for completeness and bibliographic accuracy.