Gordon Parks was a Black American who successfully wore many hats as photographer, composer, author, poet, writer and film director. He became prominent in the U.S. in 1940s through 1970s for documentary photojournalism —particularly with issues of civil rights, poverty and the status of Black Americans—and in glamour photography for Glamour Magazine and Ebony. His fashion photography was also published in Vogue from the mid 1940s to the late 1970s.
THE ABOVE PHOTOGRAPH: GORDON PARKS DIRECTING | THE LEARNING TREE (1968) OVERSIZE BTS PHOTO
[Burbank, CA]: Warner Brothers-Seven Arts. 1969. Vintage original 11 x 14″ (28 x 38 cm.) black-and-white doubleweight print still photo, fine
As a photojournalist, he is best remembered for his iconic photos of poor Americans during the 1940s (taken for a federal government project). They brought him widespread acclaim and a position as the first African American staff photographer for Life magazine. He would remain at the magazine for two decades, covering subjects ranging from racism and poverty to fashion and entertainment.
African American Filmmaker
Gordon Parks was one of the first African American filmmakers to direct films within the Hollywood system, developing films relating the experience of slaves and struggling black Americans, helping create "blaxploitation" as the director of the films Shaft, Shaft's Big Score and the semiautobiographical The Learning Tree.
GORDON PARKS DIRECTING | THE LEARNING TREE (1968)
Background
Gordon Roger Alexander Buchanan Parks (November 30, 1912 – March 7, 2006) was born in Fort Scott, Kansas, the son of Andrew Jackson Parks and Sarah Ross, on November 30, 1912, the youngest of 15 children. He attended a segregated elementary school. His high school had both black and white students, because the town was too small for a segregated high school. However, black students were not allowed to play sports or attend school social activities. They were also discouraged from developing aspirations for higher education. Parks related in a documentary on his life that his teacher told him that his desire to go to college would be a waste of money.
His mother died when he was fourteen. Soon after, he was sent to St. Paul, Minnesota, to live with a sister and her husband. He and his brother-in-law frequently argued, and Parks was turned out onto the street to fend for himself at the age of 15. Struggling to survive, he worked in brothels, and as a singer, piano player, bus boy, traveling waiter, and semi-pro basketball player. In 1929, he briefly worked at the Minnesota Club, an elite gentlemen's club. With the Wall Street Crash of 1929 bringing an end to the club, Gordon jumped a train to Chicago, where he managed to land a job in a flophouse.
A Career In Film – The Learning Tree
In the 1950s, Parks worked as a consultant on various Hollywood productions. He later directed a series of documentaries on black ghetto life that were commissioned by National Educational Television. In 1969 he adapted his bestselling semiautobiographical novel, The Learning Tree, as a screenplay and directed it for Warner Bros.-Seven Arts. It was filmed in his hometown of Fort Scott, Kansas. Parks also composed the film's musical score with assistance from his friend, the composer Henry Brant. The National Film Registry citation mentions The Learning Tree as "the first feature film by a black director to be financed by a major Hollywood studio."
LEARNING TREE, THE [LES SENTIERS DE LA VIOLENCE] (1969) FRENCH POSTER
LEARNING TREE, THE [RAGAZZO LA TUA PELLE SCOTTA] (1969) ITALIAN POSTER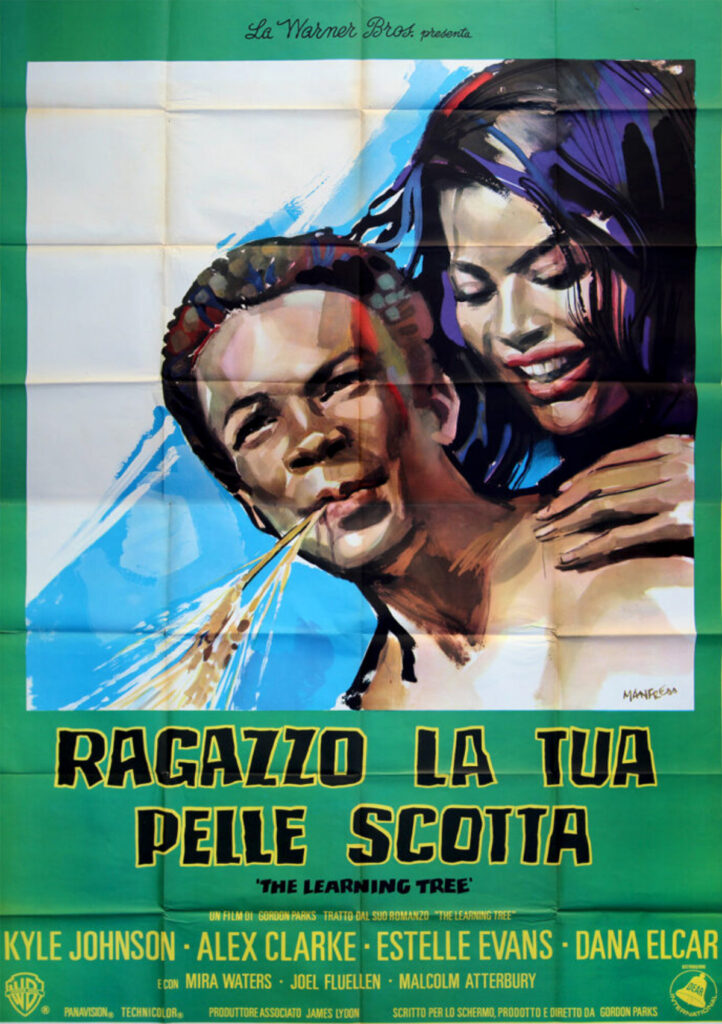 LEARNING TREE, THE [LES SENTIERS DE LA COLÈRE] (1969) BELGIAN POSTER
Gordon Parks and Blaxploitation
Shaft, a 1971 detective film directed by Parks and starring Richard Roundtree as John Shaft, became a major hit that spawned a series of films that would be labeled as blaxploitation. The blaxploitation genre was one in which images of lower-class blacks being involved with drugs, violence and women, were exploited for commercially successful films featuring black actors, and was popular with a section of the black community. Parks's feel for settings was confirmed by Shaft, with its portrayal of the super-cool leather-clad, black private detective hired to find the kidnapped daughter of a Harlem racketeer.
Parks also directed the 1972 sequel, Shaft's Big Score, in which the protagonist finds himself caught in the middle of rival gangs of racketeers. Parks's other directorial credits include The Super Cops (1974) and Leadbelly (1976), a biographical film of the blues musician Huddie Ledbetter. In the 1980s, he made several films for television and composed the music and a libretto for Martin, a ballet tribute to Martin Luther King Jr., which premiered in Washington, D.C., in during 1989. It was screened on national television on King's birthday in 1990.
In 2000, as an homage, he had a cameo appearance in the Shaft sequel that starred Samuel L. Jackson in the title role as the namesake and nephew of the original John Shaft. In the cameo scene, Parks was sitting playing chess when Jackson greeted him as, "Mr. P."
Parks continued working until his death in 2006. He was recognized with more than fifty honorary doctorates, and among his numerous awards was the National Medal of Arts, which he received in 1988.
Legacy
Gordon Parks was a man of many talents: photographer, painter, musician, composer, writer of novels, poetry, autobiography, and non-fiction, including both photographic instructional manuals and books about filmmaking. Parks helped found Essence magazine, and served as its editorial director during the first three years of its circulation.
Director Spike Lee cites Parks as an inspiration, stating "You get inspiration where it comes from. It doesn't have to be because I'm looking at his films. The odds that he got these films made when there were no black directors, is enough."
The Sesame Street character Gordon was named after Parks.
GORDON PARKS DIRECTING | THE LEARNING TREE (1969) SET OF 4 PHOTOS
The Gordon Parks Foundation
Located in Pleasantville, New York reports that it "permanently preserves the work of Gordon Parks, makes it available to the public through exhibitions, books, and electronic media." The organization also says it "supports artistic and educational activities that advance what Gordon described as 'the common search for a better life and a better world.'"
The Gordon Parks Museum/Center
Located in Fort Scott, Kansas, holds dozens of Parks's photos and various belongings, both given to the museum by Parks, and bequeathed to the museum by him upon his death.
Library of Congress, Washington, D.C.
The Library of Congress (LOC) reports that, in 1995, it "acquired Parks' personal collection, including papers, music, photographs, films, recordings, drawings and other products of his… career."
The LOC was already home to a federal archive that included Parks's first major photojournalism projects—photographs he produced for the Farm Security Administration (1942–43), and for the Office of War Information (1943–45).
In April 2000, the LOC awarded Parks its accolade "Living Legend", one of only 26 writers and artists so honored by the LOC. The LOC also holds Parks's published and unpublished scores, and several of his films and television productions.[9]
National Archives, Washington, D.C.
The National Archives hold the film My Father, Gordon Parks (1969: archive 306.8063), a film about Parks and his production of his autobiographical motion picture, The Learning Tree, along with a print (from the original) of Solomon Northup's Odyssey, a film made by Parks for a Public Broadcasting System telecast about the ordeal of a slave. The Archives also hold various photos from Parks's years in government service.
Smithsonian Institution, Washington, D.C.
The Smithsonian Institution has an extensive list of holdings related to Parks, particularly photos.